Here is the complete range as well as set of information for you regarding MP 1 Scale Salary Pakistan 2023 Package Management Pay Scale Basic Pay Scale, House Rent, Utilities. If you are on the management position and you are on the grade scale I then there is the fix and basic salary that you shall get. Note that the government of Pakistan has made and encounter some of the specific changes in the salaries of these MP I officers. You can have a look at the details. The minimum salary of these MP I officers are Rs 263000 and their maximum revised salaries are Rs 324000. Their revised increment amount is Rs 20000.
Taking about the house rent amount which has now arrived in its revised form, the minimum range of house rent which is received by these management position scale I officers, it is Rs 101000 and the maximum value of their house rent incentive is Rs 142000. It is too for the sake of your details and information that these MP I grade scale officers get some amount and income to pay their utilities as well. The total amount in the form of cash is Rs 13100, it is the minimum utility amount which is given to them and Rs 16200 is the maximum utility amount which is officially received the management position officers. More is the information for you regarding MP 1 scale salary Pakistan 2023.
MP 1 Scale Salary Pakistan 2023 Package Management Pay Scale
This MP I basic pay scale Pakistan 2023 has been notified to all readers. We have told you the details as well about MP I house rent Pakistan 2023, this house rent amount ranges from Rs 101000- Rs 142000. Complete medical facilities are given to them. These officers will always get free medical treatment for their spouse and kids too. Then gratuity fund is included in their perk list. These MP I officers get paid leaves.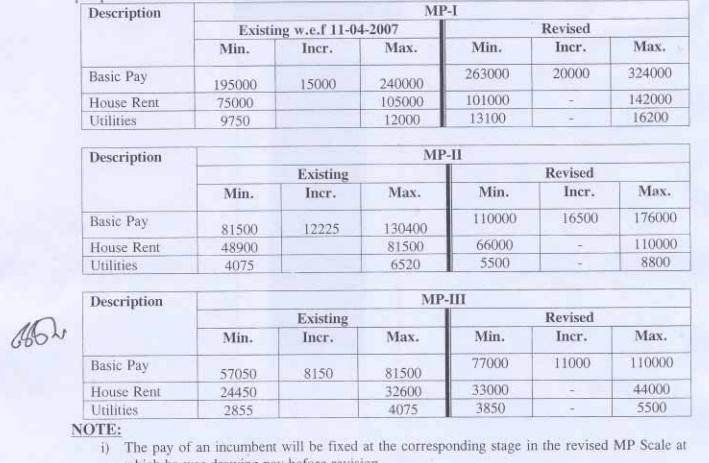 If they are posted on the contract basis then they will be clearly mentioned that their job span is of this much years. The total amount regarding MP 1 utilities Pakistan 2023 has been mentioned. All these are the latest stats. We are going to in-detail update you about revise salaries form for management position officers working on the grade scale.
From the above details, you can again have a look at the details of MP 1 Scale Salary Pakistan 2023 Package Management Pay Scale. The Pakistan government and their finance division has made these revisions and all of these revisions and certain changes in salaries of MP I officers are in their effective form. If at any time this finance division of Pakistan will revise the salaries of these MP I officers on further note, then we will update the readers. Just keep tuned and more info and more detailing on these MP I officers salaries and house rent amount, utilities amount will be shared.