Let us be talking as well as discussing all of the valid facts about house rent allowance Increase Pakistan Latest News Notification 2018. We know that whenever you get enter in the government sector, then lots of allowances are given to you and among this entire and lengthy list of allowances, we have one important allowance and it is house rent allowance. This notification is now issued and final decisions and proceedings have been managed by the finance department and too cabinet committee of Pakistan. All government employees are quite happy and satisfied from this increase. This notification is issued to all provincial governments and sooner its implementation will be one. From this page, we will start our thorough discussion from BS-01 scale and then you will know how much house rent allowance increase is done for BS-22 scale officers. BS-01 officers are getting rs 4800 now, BS-02 officers are receiving Rs 4900. The government of Pakistan has finalized this Rs 5050 house rent amount for their BS-03  officers. Below we have gathered more information about house rent allowance Increase Pakistan.
For more details about house rent allowance Increase Latest News Notification 2018, stay tuned with us. Rs 5200 figure is for for BS-04 employees and working officers. Then Rs 5400 is the official allowance amount for BS-05 scale officers. Rs 5600 is finalized for all of these BS-06 officers. Then BS-07 officers are entitled to get rs 5800 house rent cash amount.And BS-08 officers are official holders of this amount rs 6000. BS-09 officers final amount is Rs 6200.
Then Rs 6400 is the final amount for all of BS-10 scale officers. Rs 6600 is the final and official house rent amount for entire of these BS-11 grade scale employees. BS-12 grade scale revised amount is rs 7000. Rs 7500 increase is made for BS-13 officers, Rs 8000 for BS-14 professionals and Rs 8500 revision is done for BS-15 government professionals.
House Rent Allowance Increase Pakistan Latest News Notification 2018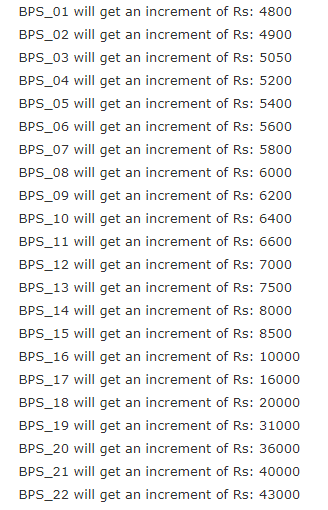 Rs 10000 house rent updated amount is made for BS-16 officers. Rs 16000 goes for BS-17 officers and Rs 20000 amount goes to BS-18 officers. Rs 31000 revision is for BS-19 officers. Rs 36000 revised amount is only made for BS-20 officers and Rs 40000 is the house rent amount made for solely BS-21 officers. Lastly, BS-22 officers revised form of house rent amount is Rs 43000.
The most latest figures about house rent allowance Increase Pakistan have been shared with you. And this implementation will be followed for all government employees no matter they are serving in Sindh, Punjab, KPK or Balochistan provincial government departments. More recent updates and that too on the instant basis about house rent allowance section will be shared with all people on regular basis.