Certain changes are done and carried out with respect to the Finance Division Islamabad Revised Pay Scale 2019. For the information, this MP terms stands for management position and the monthly basic pay packages, house rent allowance and utilities allowances amount are revised for the employees who are working at the management scale positions. For MP-I, minimum basic pay is Rs 263000 and maximum pay is Rs 324000 and the increment amount is Rs 2000. Their minimum house rent amount is Rs 101000 and maximum house rent amount given to them is Rs 142000. The minimum range of their utilities amount is Rs 13100 and the maximum amount given to them for their utilities is Rs 16200.
Finance Division Islamabad Revised Pay Scale 2019
Now, we will come to the category of MP-II and this aspect is also linked to the section of Finance Division Islamabad Revised Pay Scale 2019. For MP-II officers, their basic pay on a minimum note is Rs 110000, Rs 176000 is their maximum pay and increment amount for these officers is Rs 16500. Their revised house rent amount is now Rs 66000, maximum house rent figure given to these officers, it is Rs 110000. These MP-II scale officers utilities amount is now come out to be Rs 5500 and its maximum range is Rs 8800.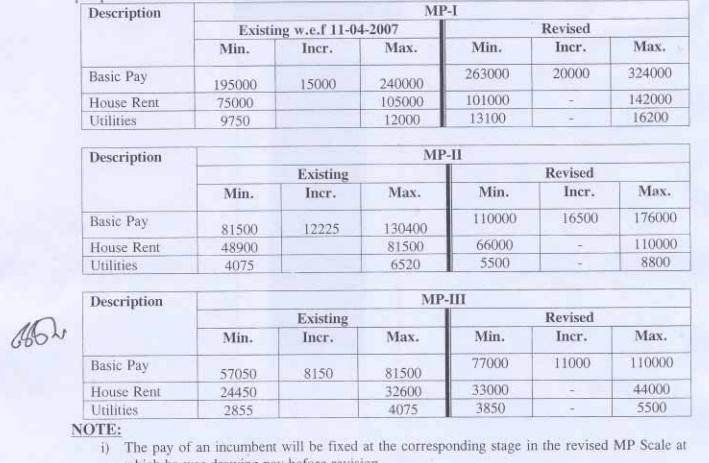 Moving to MP-III officers, minimum range and amount of their basic pay is Rs 77000. The maximum range of their monthly salary is now official come out to be Rs 110000. These officers will now get the increment up to Rs 11000. These specific grade officers minimum house rent allowance amount is now currently Rs 33000. On the other hand, the maximum house rent allowance amount and figure is Rs 44000. Lastly, their utilities allowance revised amount is in between Rs 3850 – Rs 5500. Stay tuned with us and further information on Finance Division Islamabad Revised Pay Scale 2019 will be shared.