If you are looking for the updated information about house rent allowance chart Notification 2022 For KPK government employees then here you are! For all of the related KPK government employees, this is a great news for all KPK government employees that their house rent allowance has been significantly and prominently increased. In the past time, KPK government level employees used to face this difficulty while paying their house rent amount. But now they should be happier to hear this news that this house requisition amount is officially increased.
We will give you all details regarding this category. Do you know that how much BS-01 scale will get an accommodation house rent amount, this finalized figure is now Rs 4800. BS-02 officials will get Rs 4900, BS-03 officials will get Rs 5050 and BS-04 scale officials will get an accommodation allowance and incentive of Rs 5200 amount. Then Rs 5600 is the accommodation house rent amount for entire one BS-06 officers.  To receive more of the updates about house rent allowance chart Notification 2022, you can check the below written info.
We will update you on the regular basis about the details and official notification made for house rent allowance chart Notification For KPK government employees category. You can note this also that BS-07 officials will get rs 5800 and BS-08 scale officials will be given Rs 6000.
House Rent Allowance Chart Notification 2022 For KPK Government Employees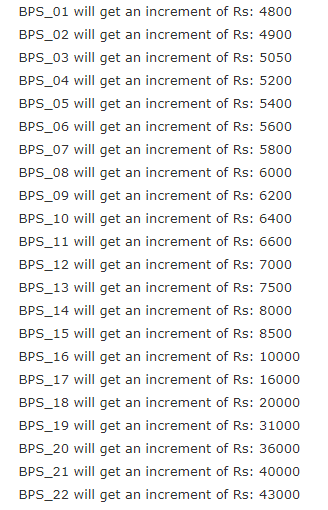 These BS-09 officers updated house requisition  allowance figures are Rs 6200, BS-10 officials will be getting Rs 6400 and BS-11 officials will be receiving Rs 6600 from KPK government. This KPK provincial government will give Rs 7000 to their BS-12 officials. Rs 7500 accommodation house rent amount is for these BPS-13 officials.
KPK government has also revised the house requisition incentives for BPS-14 employees and their revised amount is Rs 8000. BPS- 15 officers will be later on receiving Rs 8500 and BPS- 16 employees will receive Rs 10000 from their respective department.
This notification has too been issued that Rs 16000 accommodation amount is made for BPS-17 officers, Rs 20000 amount is made and finalize for BS-18 scale officials. BPS- 19 scale category will get Rs 31000 and BPS-20 scale category will be getting Rs 36000. KPK government shall give Rs 40000 to these BPS-21 scale category and BPS-22 grade category will get Rs 43000 revised house requisition incentive amount.
Details regarding house rent allowance chart Notification 2022 are coming on more further basis. If you want to know that what other Punjab and Sindh sector government employees will be receiving as their house rent allowance amount then updates about that category will be given too. So stay tuned with us over here. We have given all detailed info regarding this notification which is made against house requisition allowance section.