Lahore High Court Naib Qasid Salary 2022, Benefits will be discussed in this post and the other parts that are very essential for the candidates should know about it. So here is mentioned the details about the Lahore high court Naib Qasid. Lahore high court employees salaries are based on the basic pay scale and the other allowances, benifits would be delivered to the employees by the pattern.
Lahore High Court Naib Qasid Salary 2022 is according to the basic pay scale. In the Lahore high court first look at the designation that is the Naib Qasid. Its basic pay scale in the court is 3 that is the lowest rant in the basic pay scale list. Initial pay scale is 9,610 according to the revised pay scale 2022, at the maximum rate 21,310 ,  Lahore High Court Naib Qasid Benefits annual allowance or benefits is 390 and 30 stages are left behind in the career of the employee for the promotion.
Lahore High Court Naib Qasid Salary 2022
This is the first part of this topic now have a look at the second part that is the benefits that is given to the employee on behalf of the paying their services. House rent is 1503, conveyance allowances 1932, medical allowances 1500, judicial allowances 6000, utility allowances 3000, spl. Judi. Allowance 10020, A.R-16 859 washing allowances 150 other allowances. This is such a good package of the salary that is offered by the Lahore high court.
Check out Lahore High Court Salary Chart 2022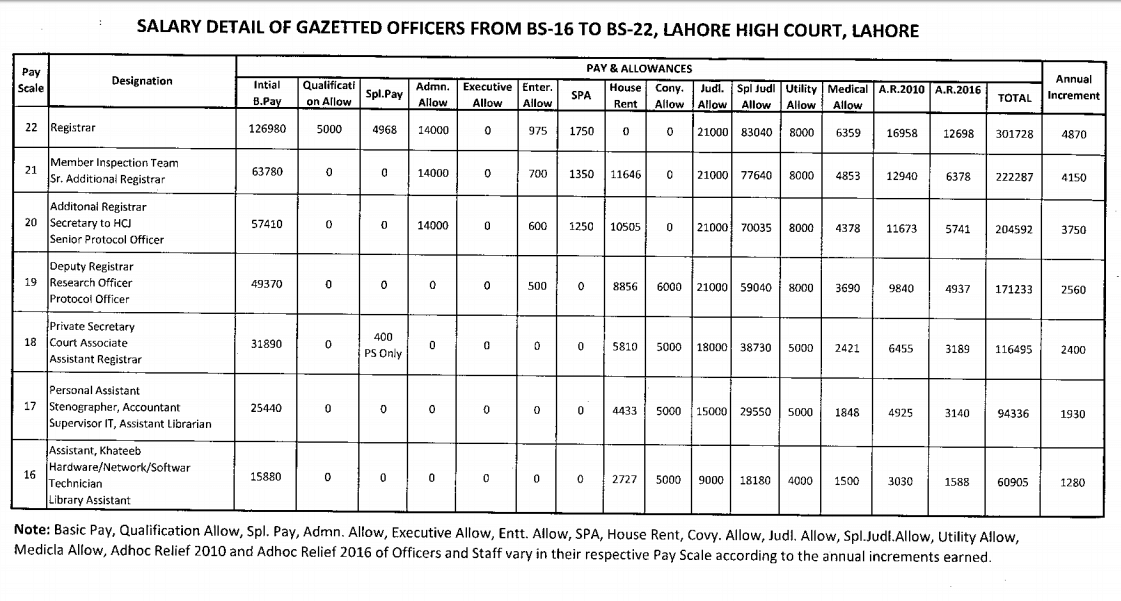 Lahore High Court Naib Qasid Benefits
It is over time allowances also mentioned in the revised basic pay scale Integrated allowances 300. Beside all this is the government job and very good repute of this job. These kinds of jobs available in Pakistan through legal channels. Lahore high court jobs are available in pakistan to apply but the salary difference between the jobs requested through the lahore high court. The new job title like naib qasid through the perfect association.