Here we will talk about the category of MP 2 Scale Salary Pakistan 2020 Package Management Pay Scale House Rent, Utilities. For the information, this job post term MP II is termed as the management position officers who are serving on the grade scale II. Here you will know that how much rent amount is given to them, how much utilities amount is handed over to them, what is that basic minimum salary range and what are the current stats of their basic salary and income range. All these details and facts are mentioned over here. First we will start from the basic pay of these MP II officers and their basic salary minimum amount is Rs 110000 and Rs 176000 are their maximum salary figures. Note that the finance division of this government of Pakistan, they make constant amount of revision in the basic pays of MP II officers. And their present increment amount is Rs 16500. We have mentioned all these latest and most recent stats, an official copy of all of these revisions have been submitted and conveyed to the other departments of Pakistan too. Now you can have a look at the more details of MP II scale salary Pakistan 2020.
This MP II basic pay scale Pakistan 2020 is officially mentioned. Moving onto MP II house rent Pakistan 2020 details, these management position officers get Rs 66000 as their minimum house rent amount and the maximum range of their house rent perk is Rs 110000.
MP 2 Scale Salary Pakistan 2020 Package Management Pay Scale
These officers who are on MP II job post, they are entitled to utilities and incentives receiving. Basically they get the cash amount so that they can buy their utilities, the minimum amount of these utilities category is Rs 5500 and maximum range and amount is Rs 8800.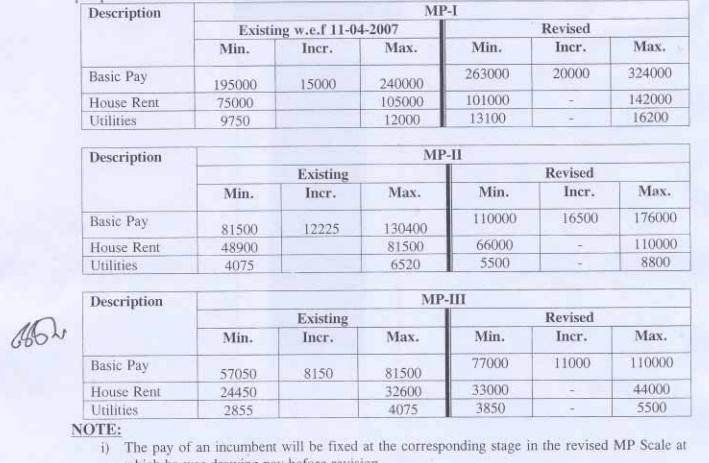 This is all info on MP 2 Scale Salary Pakistan 2020 Package Management Pay Scale and now we will discuss other small scale perks and benefits which are given to MP II officers. The list detail is mentioned over here, these officers are given medical facility, house rent, paid leaves, gratuity fund.
Readers should stay in touch and we will share further revised info on MP 2 Scale Salary Pakistan 2020 Package Management Pay Scale. All these official changes are made by the finance division working in Pakistan. If these latest figures are going to be further and more changed and gets revised then we will share those changes with you. Currently above are the details and stats for you that how much basic pay is being received by these management position official posts. If you want to be on MP II job post and you are confused that what is the their actual basic pay range then you can go through the above mentioned details and given information for one more time.