Notification of Enhancement Shuhada Package for Police Personnel KPK published here at this page. It is the page which shows all aspects of the existing shuhada package ads well as revised amount of compensation. It is nice to share about the details which link the Shuhada package for police personnel. Those who embrace shahdat must  be regarded by the department. The way of gave them the association of the police it is justified package indeed. Constable or HC existing Shuhada package is 4400 with the 10.
ASI or SI existing shuhada police package is reasonable means it is about 5500 as the existing package. Inspectpr existsing shuhada package is 5500 as well. It ie the package which increase at the same ratio. DSP or ASP is the associated factor to know about the rates of 15 already decided. SP pr SSP increase with the rate of 20 and total existing shuhada package is 15400. DIG or above with the rank of 20 and the existing shuhada package is 16500.
Police Shuhada Package KPK Police Personnel Enhancement Packages
KPK Police Personnel Enhancement Packages provide the effort towards the retention of allowances and its trend. Police in KPK maintain the quality of the activities therefore Police Shuhada package KPK more deserving for them. Remember this package is only for the police personnel. The certification of the provincial police officer KPK maintain the allowance exploration throughout the combat operation.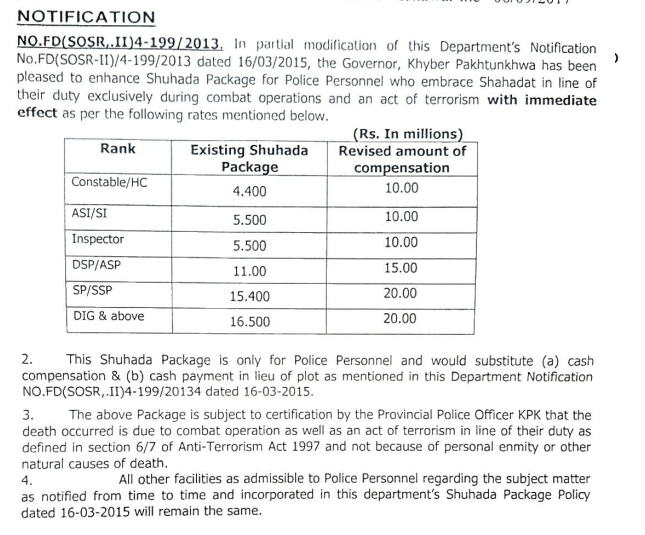 Act of terrorism afford according to the defined section 6 over 7 through the Anti Terrorism Act 1997. Personnel enmity and the natural causes of the death maintain the approach known as notified aspect and focusing that how Shuhada package policy is reliable.
Police Shuhada package KPK is the one of the finest packages because it link with the KPK police personnel to the enhancement package accordingly. The more easy the certification would take and more related terms open after per scale exploration.