The page dedicated for Salary Increase Notification 2022 Pakistan Government Employees. After the regime change hassle on 11th April 2022, it was decided by the Prime Minister of Pakistan to increase 10 percent salary increase. Minimum wage would be 25,000 PKR. After reviewing its decision, the salary increase notification was not published. However Pension increase notification 2022 agile and can be seen on finance ministry website as well. Govt employees salary increase Pakistan was just a vague announcement and it has no real ground indeed. Most of the people are still thinking about the government employee salary increase.
Salary Increase Notification 2022 Pakistan Government Employees
It is important to mention here that there is no salary increase notification 2022 so far. Although, there is huge demand of young graduates about the salary increase 2022 Pakistan. Actually, it is really a tough decision to make just before the budget. After the announcement in the parliament session, news for federal govt employee's salary increase, it became viral and news was selling as hot cake. Many internet users strike the keyboard by typing salary increase news today in Pakistan.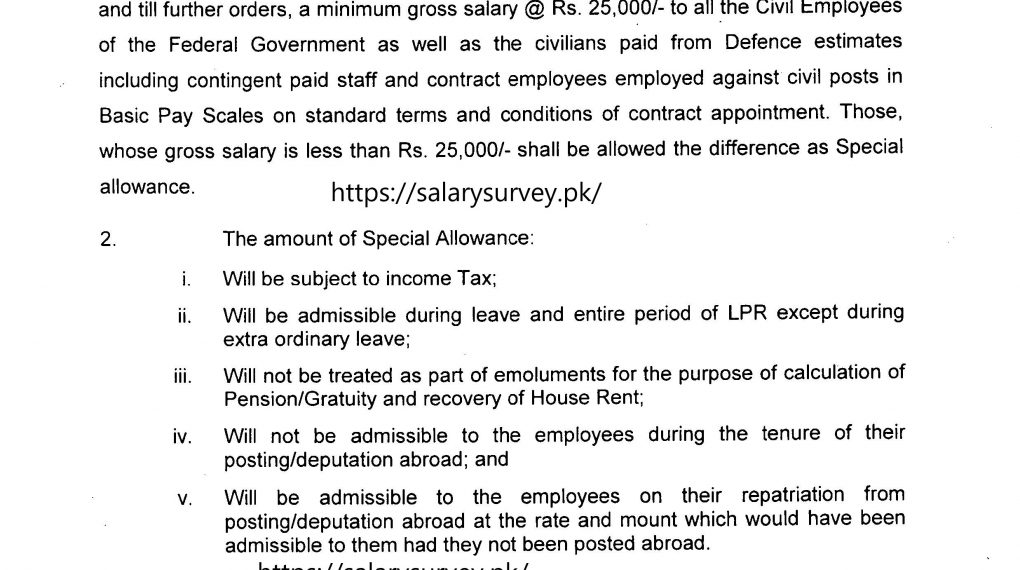 However, on 14th April 2022, there was official announcement on finance ministry website about the Grant of Special Allowance to the Civil Employees of the Federal Government. There are many conditions how you can get that special allowance. You are requested to please share our page to other and recommend us so we can grow in terms of telling you the exact aspects of salary in Pakistan for different government and private designations. In terms of reflective approach we are showing you the approach is being taken in terms of Salary Increase Notification 2022 Pakistan Government Employees .
You are welcome to the page of salarysurvey.pk which shall show you the condition exactly communicate through the official financial platform on 14th April. So pleasem comment us how would you feel about our platform.