Recent updates have been issued about house rent allowance chart Notification 2018 For Sindh government employees. If any of the government employee is working in the Sindh provincial zone then this is a great and best amount of news for him that his house rent allowance is now increased and revised. So do you want to know about those revised accommodation figures? Here are the details for you. This decision is taken by Sindh provincial government and Federal government on a joint basis. So go through all of these revision details and revised information. For these Sindh government BS-01 scale, these officers will get rs 4800 amount and BS-02 officers, this one official post will get Rs 4900. BS-03 officers revised house requisition figures are Rs 5050. BS-04 scale category revised and updated house requisition allowance amount is Rs 5200 amount. This Rs 5600 is the revised and updated amount for accommodation incentive category and it does belong to BS-06 officers.  More official stats about house rent allowance chart Notification 2018 are mentioned below.
Do regularly stay tuned with us because we will convey you more details about house rent allowance chart Notification For Sindh  government employees. These BS-07 officers, they will get rs 5800 as their house requisition incentive. Sindh government has officially released this notification that BS-08 scale category will be officially getting Rs 6000. BS-09 officials will get house requisition upto figures of Rs 6200. BS-10 scale house rent revised amount is Rs 6400 and BS-11 scale updated house requisition incentive amount is Rs 6600.
This provincial government of Sindh, they will get and handing over Rs 7000 to their BS-12 grade officers. Rs 7500 is revised house requisition amount which is finalized for BPS-13 officers. BPS-14 employees will on future basis be getting Rs 8000, BPS- 15 scale shall get Rs 8500 and BPS- 16 scale will get Rs 10000 as their house requisition incentive. Rs 16000 is revised amount for category of BPS-17 scale and Rs 20000 has become a revised amount for the category of BS-18 scale.
House Rent Allowance Chart Notification 2018 For Sindh Government Employees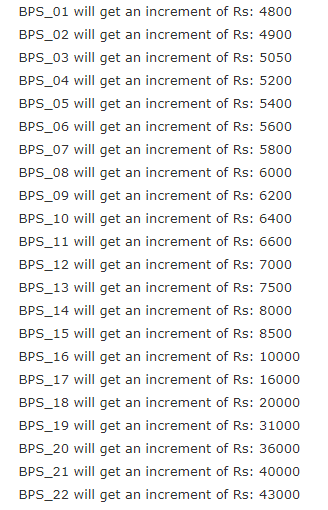 Then BPS- 19 scale specific category will be holding Rs 31000 as their house requisition amount. Moving onto last one and senior scale categories, BPS-20  level employees will have their house rent accommodation amount upto Rs 36000 and BPS-21 will have and get the Rs 40000 amount as their house rent. Finally we have moved to BPS-22 scale and these senior officials house requisition figures are revised and changed upto Rs 43000.
To receive more facts and official one stats on house rent allowance chart Notification 2018, do stay connected with this webpage. To get any more info about house rent allowance chart, you can ask any sort of query from us.