If readers are looking for the details of MP 3 Scale Salary Pakistan 2020 Package Management Pay Scale then here you are. We are going to give and deliver you complete information that how much basic pay is handed over to these management position grade scale III officers. First we will discuss the basic pay range of these officers and note that it falls in the range of  Rs 77000 – Rs 110000. You should know that Rs 77000 are their minimum basic pay stats and Rs 110000 are their maximum basic pay stats and figures. These MP III officers get Rs 11000 as their increment. So this is all in all latest information which is linked with the basic pay category of these MP III officers. These changes are done by the finance division experts of Pakistan, all of these changes and revisions have become official. You can check out the official copy as well which is forwarded by finance division serving in Pakistan. And now you will receive the information that how much minimum and maximum amount of house rent and utilities amount are given to MP III officers. Rest is the information for you about MP III scale salary Pakistan 2020.
MP 3 Scale Salary Pakistan 2020 Package Management Pay Scale
We have mentioned to the readers regarding the details of MP III basic pay scale Pakistan 2020 and we will talk about the exact values linked with MP III house rent Pakistan 2020. These MP III officers get Rs 33000 as their minimum house rent amount and Rs 44000 is their maximum in range of house rent amount about the MP 3 Scale Salary Pakistan 2020 Package Management Pay Scale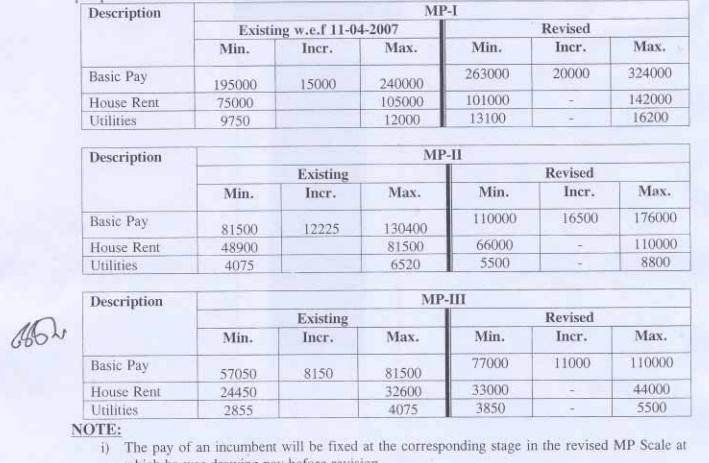 So you can assess that this house rent facility is given to these officers. Then talking about the details of MP III utilities Pakistan 2020, Rs 3850 is their minimum amount and Rs 5500 is their maximum utilities amount. Then these management position official posts who are at III scale, they get paid leaves facility, medical facility, gratuity funds and house rent allowance, utilities fund for theirselves.
You can keep connected with us and we will enlighten and highlight more of the information about MP 3 Scale Salary Pakistan 2020 Package Management Pay Scale. Right now readers and all of the related viewers of this page, they can keep in mind these stats. These are the 2020 salary figures which are received by these MP III officers and for the future revisions and future updates, we will be updating you. Above we have mentioned their basic pay stats in terms of minimum an maximum range. When the finance division and department of Pakistan will more revise the salaries of these MP III grade scale officers, we will share that info with you on immediate basis.